THIS IS US
THIS IS US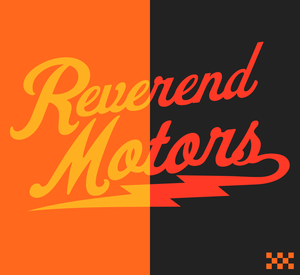 At Reverend Motors we make performance "American Made" lubricants & provisions for the American motorcycle rider. We are comprised of 3 dudes, two brothers, and one friend. We are normal, everyday, dudes. As a matter of fact, our office, warehouse and "board room" is located at our home in our garage in Orange, California where we test our products and craft up new ideas to grow and support you, the rider. We are throttle junkies ourselves and understand how hard it can be for the working man to get out and ride. That is why it is our mission and goal to help you, the rider as if you were a factory pilot for KTM. If you would like to understand our mindset pick up a copy of Bruce Brown's 1971 film "On Any Sunday" where motorcycle culture was alive and well. 
BEHIND THE BOTTLE WITH KORY

This is Kory the "The Oil Dude"….Kory is behind the marketing, crafting and testing for Reverend Motors. This dude eats, dreams, and speaks nothing but horsepower. Seriously, it's hard to understand this guy sometimes with all the stuff he thinks of in that big head of his. Kory is a passionate 2 stroke motorcycle pilot and ain't to bad on it may we add. In his free time, not slanging oil, you guessed it... He's riding his motorcycle or at the river. PS people say he looks like a male version of Julia Stiles. HAHA. Totally...

BEHIND THE BOTTLE WITH KOLTON
This is Kolton, "The Sales Dude". This guy actually doesn't know anything about sales but acts like he does... Haha not but for real, he's good with numbers. He drinks a cup of oil every morning just to get his day started. He went to Europe one time and thinks he's an expert on wine now. He enjoys the finer things in life like walks on the beach, a good John Wick movie, and classic guitar. Kolton oddly enough enjoys chick flicks too so we don't really know what to do with that. He can also wheelie longer than his brother so there's that too. 

On that note, this guy lives for 2 wheels, freedom and a kick-ass guitar solo...If you ever go wine tasting, don't bring him.

BEHIND THE BOTTLE WITH DANIEL
This is Daniel, The Art Dude… He is the third leg of our tripod. Daniel is the creative mind behind the designs for Reverend Motors. He can't ride worth a crap but is working on it. He is a goon, but he's our goon. In his spare time, when he's not drawing cool things and slanging oil, Daniel enjoys putting on tight clothes and riding his bicycle around town. Daniel is a family man and loves hanging with his wife and 2 daughters.